Customers Who Viewed This Product Also Viewed
Description

Video Review by Bots & Bits

Photo Review by Bits & Bots
Robot Hero R-01 Durden & Barney (Compatible with MP13 Soundwave)
Material: ABS
Height:
These two figures don't sell seperatly.
9/15/2017
Pictures updated.
8/28/2017
Pictures updated.
7/20/2017
Pictures updated.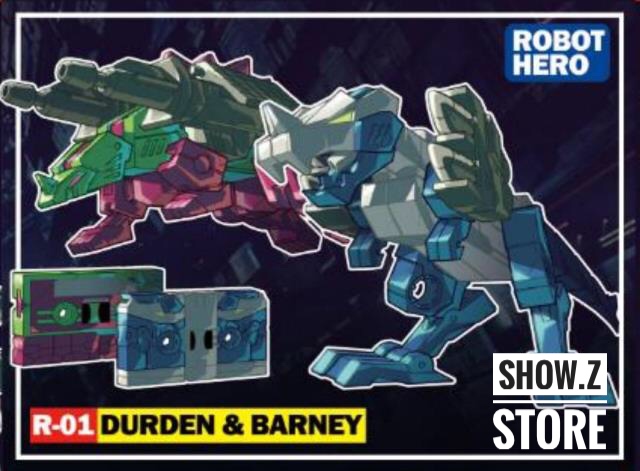 10/17/2017
C/o Bots and Bits on
Youtube
.
10/17/2017
Structurally this pair are damn flawless. The plastic is thick & dense, both pin and ball joints are stiff and bare weight well. transformation is smooth. Barney is by far the most interesting, with Durden sharing a lot of engineering from his G1 self. Paint on Durden is flat and basic, but in Dino mode the paint is mostly covered. Barney has complex looking silver accents due to mold details. Both tapes fit easily into Takara & Toyhouse Factory MP13's. I had minor trouble getting Durdens spines to stay up, but apart from that, they're damn near flawless. The only reason I can see to NOT buy these are if you simply don't like the look of them. Otherwise they're damn near faultless.
c/o
Bits & Bots
on Facebook.