Customers Who Viewed This Product Also Viewed
HongLaJiao 1/100 MG CN-01 MSN-06 Sinanju
Material: ABS, Die-cast
Scale: 1/100

1/100 Scale Metal Frame Alloy Complete Model (Metal Build Style)
Metal Build style alloy skeleton frame.
With LEDs
20cm in height.

ETA: May 2020

02/11/2020
HongLaJiao 1/100 MG CN-01 MSN-06 Sinanju
Pictures Review updated.
c/o 78dm.net




▲ This is a beautiful piece. The majority of this figure has not changed, however a few details have been added… mostly concentrated on and around the Fuel Tank.



▲ This figure includes a stand with an Illuminated Base.



Head detail.



▲ Picture 1 shows the single LED post used within the neck position.
- Picture 2 shows the black mystery button on the backpack, which controls the LED light for the neck/head. This light is emitted up through the visor of
the facemask.
- Pictures 3 & 4 show the illuminated, solitary eye.
- Unfortunately, this LED function in the neck severely limits the movement of the head. At the same time, the electrical connections are not stable, causing the light to work intermittently. The intention was great, but the end result leaves a lot to be desired.



Chest detail.



Back details.



backpack.



▲ The Backpack Thruster has been largely unchanged.



▲ The details on the Fuel Tank are great.



▲ This button (highlighted in yellow) is the on/off switch for the LED Rocket Boosters.



▲ Hinges in the shoulders allow for additional articulation and movement.



▲ A few additional details on the arms have been added.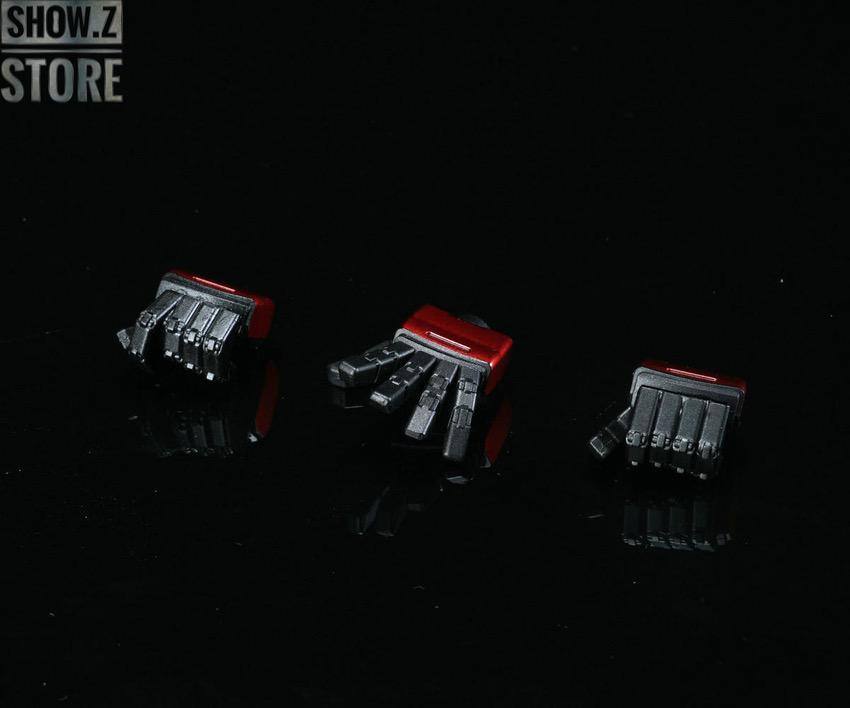 ▲ Figure comes with 3 different hand configurations: Open, Gunner and a Light-Saber grip.



▲ Three separate Weapons Effects come with this figure. Two different Light-Saber Beam effects and a Tomahawk effect for the Axe.







12/10/2019
HongLaJiao 1/100 MG CN-01 MSN-06 Sinanju
Pictures updated.